Up to € 1000 subsidy for trademark and design applications
No fuss, we arrange it for you

Trademark registrations
What is a trademark?
Before telling you all about our services, it is good to start with the definition of a trademark. A trademark is a sign that distinguishes products or services from those of competitors. A distinctive sign can be anything, from words, logos, shapes to music and so on. Distinctiveness is an essential criteria for a sign to be marked as a trademark and to be registered as such. For that reason, a sign that is merely descriptive for the goods or services at hand, cannot be protected as a trademark. 'Fresh' will not make it to be a trademark for a greengrocer's shop, nor will 'super' for a sports store.
However, a generic word can be a trademark, as long as it does not have descriptive meaning in relation to the relevant products or services. For example, the word 'fresh' can be registered as a trademark for mobile phones and computers.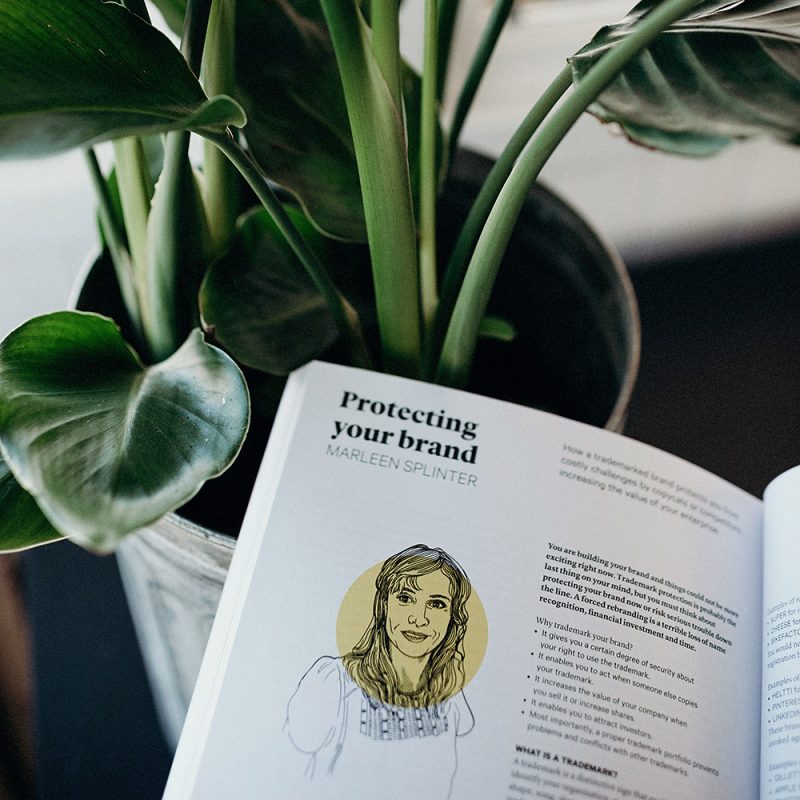 Registration first, established brand second
The legislation is clear: without a trademark registration you cannot claim trademark protection. That goes too for brands that have been used for many years or are well-known brands. If they have never been registered, you do not have a weapon against infringers and copycats. It also means you cannot sell or license your brand. All in all: a trademark registration is worth the investment.
A trademark registration can be a bubble
Yes, it is possible to obtain a trademark registration of a descriptive word in combination with a distinctive logo. This does not mean however, that it provides any exclusive rights on the word itself. Be aware that classifying your trademark and third party rights can cause issues to arise. Prior rights should always be taken into account when drafting the classification, in order to avoid objections. Besides, different countries have different requirements regarding the description of goods and services and the use of a trademark. We are happy to advise you on the distinctiveness and the availability of your brand. We draft a personalized registration strategy, so you can avoid refusals and objections in the future. This way we make sure that you get a strong and solid trademark registration.
The Netherlands and Benelux
Are you using your brand in the Netherlands, Belgium and/ or Luxembourg only? In that case a trademark registration in the Benelux will suffice. A Benelux registration also provides a solid basis if you want to register your trademark abroad (international registration).
The registration procedure in the Benelux takes about 3 to 6 months. The role of the Benelux Office of Intellectual Property is limited. It only performs a formality check, which involves an assessment of the distinctiveness of the trademark, the details of the holder and the description of goods and services.
After compliance with all the formal requirements, the trademark will be published for opposition purposes. During a period of two months, third parties can oppose against the registration of the trademark based on their prior trademark rights. If no opposition is filed, the digital certificate of registration will be provided.Fees for Benelux trademarks ›
Are you active in a large part of the EU? An EU trademark registration might be your best option. This type of trademark provides protection in all EU member states against relatively low costs.
Keep in mind that there are some down sides to an EU trademark. Third parties from 28 member states can object against the registration of your trademark. Since it is not possible to drop one country of the EU trademark, an objection from one country can undermine your complete registration.
Also, the use requirements, which are applicable 5 years after registration, can make it difficult to invoke an EU trademark. To be able to meet the use requirements, your trademark should be used for the products and services in a large part of the European Union. Use in one or two member states is generally not enough.
Failing to comply with the use requirements can cause loss of rights, which makes it impossible to act against infringers. So, for companies that have no actual plans to use their brand in a large part of the EU, an EU trademark is not the best choice. For companies with activities or ambitions in most of the EU countries, an EU trademark is very suitable.
As an ambitious entrepreneur, chances are you would like to operate worldwide. The international registration system managed by the World Intellectual Property Organization (WIPO) is the closest thing to a worldwide registration.
An International registration is a bundle of national registrations, filed with one central office, the WIPO, at relatively low costs. New countries can be added any time, so this type of registration can be expanded as soon as your business enters new markets.
To file for an international trademark, you need a basic registration in your home country, for example the Benelux or the EU. The application is filed with WIPO and forwarded to the relevant national trademark offices. The national offices examine the application taking into account national trademark law. This is the reason why the final trademark protection can vary per country. It can take up to 18 months before all the national examination procedures are completed.
After filing the international trademark, there is a lot of work to be done to obtain final protection in all designated countries. Lucky for you, you don't have to deal with this all by yourself. With our expertise and extensive network of trademark agents worldwide we are happy to assist. We help you resolve issues that might occur during the registration process.
Many countries worldwide are a member of this worldwide registration system (the Madrid system). In the countries that are not a member of the Madrid system, for example Canada, Hong Kong, Brazil, Argentina, South Africa, etc, we have to file a national trademark application through our local agent.
Fees for International trademarks ›
More information about International trademarks ›
Are you using your trademark in one country only? Or, is your country not a member of the Madrid system (system of international registrations)? Filing for a national trademark might be your best choice. We file national trademark applications through one of our local agents in accordance with the applicable national trademark law. In contrast to international trademark registrations, the costs are relatively high. Rise will define a suitable registration strategy with a clear cost indication based on the information you provide
Ask us
We love to hear about your plans and provide you with clear advice and a suitable registration strategy.